Self-Help Access Center
Self-Help services for family law matters and certain civil cases are available for self-represented court customers who seek legal information and resources.
Our Services Include: Divorce, Paternity, Child Support, Spousal Support, Guardianship, Conservatorship, Request for Order.
No Attorney-Client relationship exists between Access Center personnel and litigant.
Legal information is given, but not legal advice.
Since there is no attorney-client relationship, communications between litigants and attorneys, staff or volunteers are not privileged and:
Access Center staff may provide services to the other party.
Services are not intended to give one side of a case an advantage over the other.
Image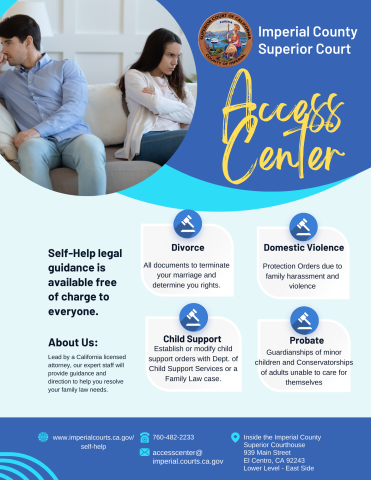 Ready to Visit the Access Center?
Make an appointment through our reservation system to make your visit easier.
VIRTUAL APPOINTMENTS ARE ALSO AVAILABLE!
Day of the Week
General Services
Specialty Services
Monday
Walk–ins
8:00 a.m.–4:00 p.m.
Small Claims 8:00–10:00 a.m.
Closed 12:00p.m.–1:00p.m.
Dissolution Workshop
8:00 a.m./8:30 a.m./9:00 a.m./9:30 a.m.
10:00 a.m./10:30 a.m./1:00 p.m.
1:30 p.m./2:00 p.m./2:30 p.m./3:00 p.m.
English and Spanish
By Appointment Only
Tuesday
Walk–ins
8:00 a.m.–4:00 p.m.
Small Claims 8:00–10:00 a.m.
Closed 12:00p.m.–1:00p.m.
Dissolution Workshop
8:00 a.m./8:30 a.m./9:00 a.m./9:30 a.m.
10:00 a.m./10:30 a.m./1:00 p.m.
1:30 p.m./2:00 p.m./2:30 p.m./3:00 p.m.
English and Spanish
By Appointment Only
Wednesday
Walk–ins
8:00 a.m.–4:00 p.m.
Small Claims 8:00–10:00 a.m.
Closed 12:00p.m.–1:00p.m.
Guardianship/
Conservatorship
Workshop
AT 8:30a.m.,10:30a.m.,1p.m. AND 2:30p.m.
English and Spanish
By Appointment Only
Thursday
Walk–Ins
8:30 a.m. to 4:00 p.m.
Small Claims 8:00–10:00 a.m.
Closed 12:00p.m.–1:00p.m.
Judgment/Letters of Rogatory/
Martial Settlement
8:00a.m./8:30a.m./9:00a.m./9:30a.m.
10:00a.m./10:30a.m./11:00a.m.
1p.m./1:30p.m./2:00p.m./2:30p.m./3:00p.m.
English and Spanish
By Appointment Only
Friday
Walk–Ins
8:00 a.m.–4:00 p.m.
Small Claims 2:00–4:00 p.m.
Closed 12:00p.m.–1:00p.m.
Judgment/Letters of Rogatory/
Martial Settlement
8:00a.m./8:30a.m./9:00a.m./9:30a.m.
10:00a.m./10:30a.m./11:00a.m.
1p.m./1:30p.m./2:00p.m./2:30p.m./3:00p.m.
English and Spanish
By Appointment Only